Donate Stamps to the Beginner's Booth
The Greater Houston Stamp Show has one of the best Beginner's Booths in the USA!
We give out boxes and boxes of stamps and philatelic material (about one mini-van full) to children and beginning adult collectors every year at our annual Greater Houston Stamp Show!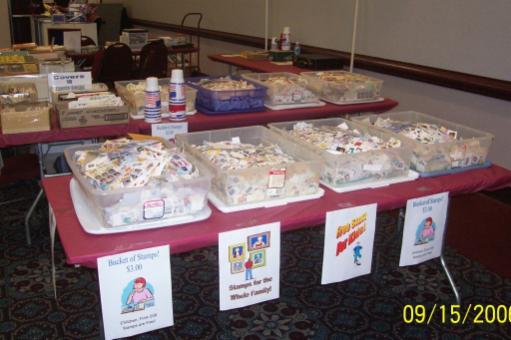 If you have stamps, albums, catalogs, or just about anything philatelic to donate to our Beginner's Booth, please mail or bring your donations to:
Houston Stamp Club Donations // 8524 Highway 6 North Suite 237, Houston, TX 77095
They have been receiving stamp donations for over 20 years.
Let them know that your package is for the "Houston Stamp Club Children's Program".
Questions before you donate?
Send us on E-mail regarding your donation
We are a 501(c)3 Organization. All donations will be acknowledged with a letter on official stationery.
The purpose of the Greater Houston Stamp Show (GHSS) Foundation, Inc. is to encourage the educational aspects of philately, and to aid in collecting, studying of, and sharing of knowledge about postage stamps, postal history, and all related areas of philatelic activities.
The GHSS Foundation is a 501(c)(3) organization.
Your contribution is fully tax-deductible to the extent allowed by law.
Contents of this page are current as of: January 2022